02 · 12 · 2019
"Waterfront" project in Petrozavodsk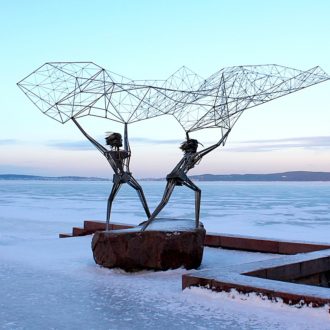 To all urbanists and lovers of the city, worrying about its future. Petrozavodsk welcomes the "Waterfront, neighbourhood & community" project!
Presentation will take place on 5 December 19:00 at Agriculture Club in Petrozavodsk. The producers of the project Albina Motor (Street Art Research Institute), Andrey Anisimov (Danish Cultural Institute) and curator Dmitry Pilikin will tell the story behind the 'Waterfront' project, about its values, its mission and principles. They will share their thoughts on why developing the waterfronts into open community spaces is so important and how to make them a part of the everyday city life. Albina and Dmitry will further explain the work method and the role of interdisciplinary research, and Andrey will explain the distinctiveness of 'Waterfront' as an international project.
The meeting starts at 19:00. Free entrance.
On 6 December theory is left behind and we dive into the more practical side of things. An urban walk will be organised, exploring the waterfronts of Petrozavodsk. How are the waterfronts in Petrozavodsk? How do people make use of them? How do people relate to them? How does St. Petersburg, Petrozavodsk and the Nordic countries deal with the interplay between man, city and water? What are the differences and similarities in each place? These are the questions, we will contemplate during the excursion.
Excursion will start at 12.00 from the hotel "Karelia"